Memorials & Testimonials
We would be happy to post a tribute and even a photo of your loved one or beloved pet on our Memorial Testimonial page. Please send it on info@raysofjoy.biz and we will post it for you.

*** This is our beautiful "Rays of Joy cat, Katie". She passed away April 1, 2013 at 17 years old, just two day after this photo was taken. She was born in the forest around our home and ended up adopting us. Katie became an indoor cat but loved being outside in the sun. She became a huge and loving part of our lives. Jeff & Raymonda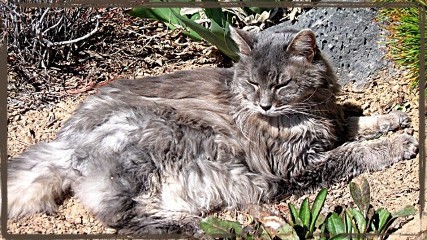 My two boys had always been so attached to each other. When they passed away just months apart, I knew I wanted them to rest in peace alongside each other.
I was so grateful to find this beautifully crafted companion urn, and my communications with Raymonda made me feel at ease that she would take special care with this creation.
I'm so thankful that I can honor their memories with my favorite photos of each of them and that I was able to customize the engravings. Also, I have a top compartment for their paw prints and hair locks — everything is all together.
Each day will bring some combination of grief, wistfulness, and fond remembrance. Now, I'll be able to contemplate my boys peacefully with this truly uplifting work of art.
Thank you,
Anoush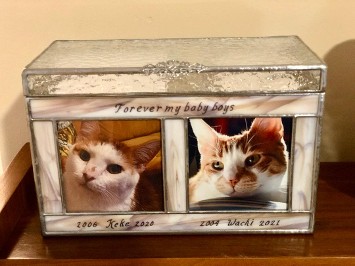 ---
**Every pet owner knows that losing a loyal and faithful friend isn't easy. But I can truly say that Max has left "paw prints" of love on everyone who knew him. Max always had a joyous spirit and loving demeanor and touched everyone who met him and will live on in the hearts of many.
Finding Rays of Joy's website definitely helped ease my heart breaking sorrow of finding Max a "forever" home with their compassion, expertise and thoroughness in helping me finding Max's "perfect" home. Rays of Joy truly made sure that I was getting everything that I wanted to make it a "perfect" home every step of the way.
The picture that I used on Max's house shows him lying in green grass waiting for me at Rainbow Bridge!
Gail S.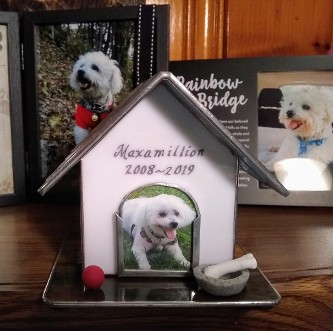 ---
**"I highly recommend to anyone considering a stained glass urn from RAYS OF JOY GLASS DESIGN to go ahead and make that purchase. You will not be disappointed. This is my 3rd purchase of these beautiful stained glass urns and I could not be more pleased with all my purchases. Raymonda created 3 beautiful urns for my girls, and I just received the last one. She is amazing, and not only are they beautiful urns at a great price, they are made with love. Excellent communication, quick turnaround and it is exactly what I wanted for my precious Mochi. Sharing a picture for so everyone can see Raymonda's beautiful work."
Deb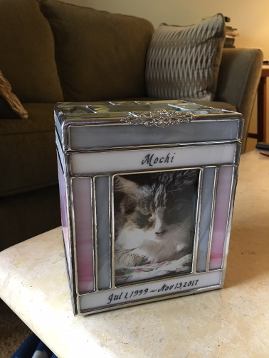 ---
***One of the most rewarding things in life is to adopt a senior animal in need and give him or her a loving forever home. One of the most heartbreaking things about it is the much-shorter amount of time to be together. This has been our case, as three of our seven adoptees have been senior ladies. Each time we had to endure our losses, Rays of Joy was there with wonderful communications and great service. For 13 years now, they have provided beautiful urns for our babies and have never, ever disappointed. The colors have turned out to be even more beautiful than the pictures, and we love the fact that we can store some favorite items just below the lid, like collars, tags, or other little keepsakes that remind us of our loved ones. We're also happy to say that in 13 years, the prices have not increased much at all, and the quality of the finished product is still superb and well worth it. This review has been a long time coming, but I wanted to get the right picture. Unfortunately, where we normally display the urns, the lighting is not conducive to a clear picture, so I gathered them all together for this photo op! I want to thank Rays of Joy for being there for us during times of sadness, and for providing such wonderful, friendly service.

Karen and Gerry

---
*** Hello. We recently ordered a pet urn from you and we wanted to extend our deep gratitude, both for your compassionate help over the telephone but when the urn arrived right when you said it would we were so happy with the beauty and quality of the urn itself. We had ordered a 3 photo, beveled lid urn and it was just gorgeous. Our handsome boy Jack now sits in a place where he loved to sit watching out the window and so when the sun shines through the iridescent lid of the urn it catches the light and truly becomes a Ray of Joy. We just wanted to say Thank you for providing us with such beautiful urn.
Diane Craig
---

*** I (we) just wanted to send a huge thank you to you for the craftsmanship and detail that you put into your urns. We had purchased an urn in 2005 when we lost our doggie family member Harley. Now in 2016 we lost his liter-mate brother Bubba. I could not find the urn like we purchased for Harley anywhere on your web site. I contacted you and sent photos of the urn and I was surprised to hear how positive you were to re-create the urn like in the photos. It made us both very happy to be able to get the urn we wanted. I was informed on a second phone call that there was one piece that you can't get anymore and that you took it as a mission to find the pieces so the urns matched. I was later informed that you found the pieces and the urn is being completed. When the package arrived, we were happy and sad to open the box and see the contents. You don't know how happy we were to view the urn and compare it to the other one. I know that dogs are just dogs, but when you live with one for 15+ years, it's too hard to say goodbye. Now we have a nice spot where our boys can sit and always be home with us. Thank you so much for your extra effort and for going above and beyond to make our sadness somewhat better because of the great craftsmanship and detail you provide to your customers. (Bless you both)
Tracy And Lynn
PS: feel free to post this on your web page, we would be happy to let everyone know how great you are!
---
*** My name is Mary, I had ordered a pet urn from you for my dog, Emma. When it arrived I wasn't quite sure if it would be as I had hoped.It was.
The urn exceeded my expectations. I wept as I looked as it, knowing it is the last beautiful gift I can give to her. It is beautiful.
I have set it in a place that catches sunlight. My little girl loved the sun. Light dances off the glass and it is so pretty. Emma would have liked it.
I thank you for your craftsmanship, attention to detail, the customization and, most of all, for your kindness. It means a lot to me.
I won't forget it.
Sincerely, Mary
---
*** Raymonda, This is my second purchase of an urn from this wonderful artist. I am every bit as pleased with this item as I was with the first. The quality and workmanship is absolutely exceptional. The turn-around time is very quick as well. If you are thinking of purchasing one of these beautiful pet urns, think no longer....just do it. You will not be disappointed. I will return for one more urn, but hopefully not for a few more years.
Best Wishes Always! Deb
My Miso
---

*** Dear Jeff & Raymonda,Thank you most kindly for your gentle manner, and tender loving care and assistance in choosing a custom designed urn, especially while we were experiencing such tremendous grief! You were so patient, understanding and helpful.We have ordered 5 urns from you, 4 for our "babies" and 1 for my Mom's. Our journey began with you near the end of October of 2001. Our precious Bear passed on 9/5/01. After weeks and weeks of searching for a suitable urn for our Bear, and after being thoroughly disappointed in the options available, praise God, we found your site. We stopped looking for pet urns and searched for human urns, most of which were not attractive at all either. When we found your site, and saw the beautiful urns you created, we knew immediately that your urns would provide the perfect resting place for our precious Bear. We just received Haley's urn and it is breathtakingly beautiful. We love the keepsake box on top for some of her momentos. We have four more "babies" for which we want you to create urns when they pass. In fact, my husband wants you to make his urn, and then be placed on the dresser to be surrounded by our babies. Will need to get a bigger dresser on which to place them all by that time!Jeff and Raymonda, we are so thankful for you and the exquisite urns you lovingly create. God bless you both! Jill & Grant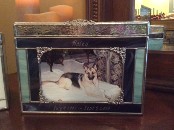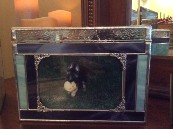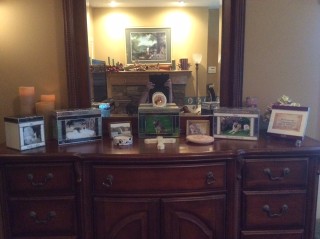 ---
,
*** Jeff and Monda, Many thanks for the beautiful pet urn for Precious! As I'm sure you know, Precious was a wonderful part of our lives and your urn is the perfect resting place for her! Part of what makes the urn so special is the little space in the top where we can keep mementos of our lives together! In it we have her collar, her insulin and syringe, as well as one of the roses from a bouquet I received from a friend at the time of her passing. Certainly having her name and the years of her life etched on the top are just another of the loving features! Finally, the "cow print" spots you created with the glass put a smile on my face as they captured her essence! Thank you for your special attention to detail on her behalf!
Tim & Lori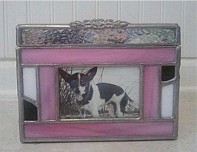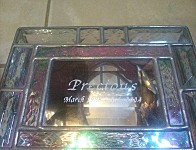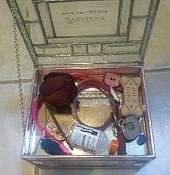 ---
*** I wanted to say "thank you" yet again in providing Cocos permanent resting place. I now have Coco sitting next to my Demi who passed in 2006 when I first came to know of Rays of Joy. Anyone I have ever shown my urns to is simply stunned at the heartfelt and beautiful craftsmanship. It is truly a wonderful tribute to my furbabies who provided me with so much over the years.
Below are my Demi and Coco who reside next to each other atop my curio cabinet♥♥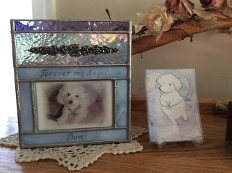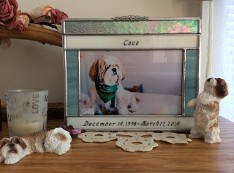 ---
*** Absolutely PERFECT! What a wonderful way to honor the memory of my beautiful Angel Tawodi! This urn is so gorgeous.....I love it! It came safe and extremely well packed as well! Rays Of Joy truly did a wonderful job all around! Thank you so so very much!! Colleen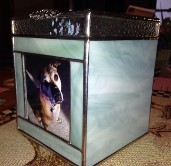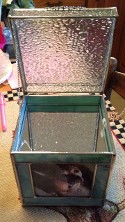 ---
*** Good Morning, I wanted to take a moment and let you know that I received my mothers cremation urn yesterday and I was delighted as to how it turned out. I know that you took special care in it's design for us and I am truly grateful and appreciative of that. It represents everything that we held in memory for her. For something that took a long and troubled time to resolve with my family. We now truly have something that says she mattered; I thank you for that !
My family wishes you and your family a Very Joyous Holiday Season. God Bless !
Randy
---

*** Hello, I just wanted to tell you that we received Miles' urn yesterday. It is absolutely beautiful. Thank you so much for giving us this beautiful piece to hold our beautiful Miles. You are very talented. I will be sure to recommend you to our friends who may need your services in the future.
Thank you again, Amelia
---
*** Hi Raymonda, I just received the urns you made for my parents. They are sooo incredibly beautiful!!! More so that I could have imagined!! You did a wonderful job! My Mom's is absolutely gorgeous and I really love the colors in my Dad's urn. The only thing I should have done differently is cut out the beige in his. I should have just used three colors like my Mom's and substituted the beige w/the light brown. The browns and red are just beautiful!
Thank you so much for being such a great experience and delivering such an amazing product. I can finally feel at ease with what I'm doing with their ashes. Not only that, but I can keep them out and no one even has to know what they really are. I just love them. Thank you so much.
Love, Jen O
---

*** Hi, I know this well be probably the strangest email you've received but I want to once again thank you for the beautiful urn I ordered from you in September for my beloved dog Sam. Each and every time I look at it, hug it and even whisper to it, it gives me a sense of he is with me and listening and feeling my forever love for him. In addition I think of you and thank you for the elegant urn and for your quick service to get it to me in time for the transfer of my Sam's cremains. All the very best, Anita Miller
---
*** Hi Jeff and Raymonda, We received our Keepsake urn on Saturday, it is beautiful. Our daughter was very pleased with it. When we took it to the funeral home the director said it is the most beautiful urn he has ever seen
Thank you, Julie Armbruster
---
*** I hope that anyone "on the fence" about ordering will take the "leap of faith" based on my feedback, and the feedback of others. Your work is absolutely amazing and the urns I have purchased from you will always be my most treasured reminders of my beloved babies. I enjoy them and the memories of my girls every day! Deb
---
*** Hi, Raymonda, I just wanted to let you know that the urn for our beloved dog arrived yesterday afternoon. It is just beautiful....just as I hoped and imagined , only better. Your workmanship is excellent and your product is gorgeous. You interpreted what I illustrated just perfectly and I will cherish Riley's final resting vessel forever. It's the most appealing urn I saw on the entire internet. Thank you for your wonderful customer service as well. Sincerely, Sharon
---
*** Hello, I recently ordered the #2 photo urn for our beloved dog, Archie. I admit that I was a bit leery ordering from the internet. I must tell you, however, that the urn has exceeded my expectations. It is so beautiful. I am proud to display it in my home. Thank you for producing this beautiful remembrance. Here is a photo of him from a couple years ago. Sincerely, Sue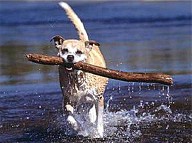 ---
*** Raymonda,Please forgive me for being so late in sending this to you. I received the beautiful Urn you made for Patches and wanted to thank you so much. I experienced such mixed emotions when I opened the box - Happiness because you did such a wonderful job and I know it will look lovely on the mantle above the fireplace, but a lot of Sadness too because it is another reminder that my little guy is no longer here (except in spirit).The urn is absolutely beautiful and I appreciate all your kindness and gentle demeanor while I was placing the order. Thank you for packing it so carefully and it was obvious you handle all your products with such tender loving care.Terry
---
*** Hi Raymonda- I just opened your package with Brownies urn. I cannot believe it - you've done it again!!! You just seem to know what to do. Your floral selection was great and the violet with the iridescent top is beautiful. Thank you and Jeff as well. While I like you and your work very, very much, I hope we don't have to communicate again for a while. Thank you - you are a sweetheart! arf, arf to your little angles :)
---

*** Dear Raymonda,
I received the urn today - it's absolutely perfect. Of course I burst into tears (again) when I took it from the box, but it gives me a sense of comfort, and I guess closure to have Skippers essence nearby in this beautiful container.
Carol Gray
---

*** Hi Raymonda, Thanks for the email back, and I was so excited to hear that you put my Dad's urn on your website!!! I went right there to check it out and it made me so happy to see! Now I can tell people to go there and see it!!! How cool!
I can't tell you how happy I am that I found you and that you were so wonderful. It was just an all around great experience!!
Thank you very much,
Love, Jen Oreinte
---

*** Raymonda, I just received the Urn today and I wanted to tell you that it is the most beautiful one I have ever seen. I will tell anyone that I know about your service. I wanted to thank you for sending it so quickly and the engraving was beautifully done as well. This is so unique just like Crystal was and she would have loved it as well. Again, thank you so much. Kathy
---

*** Dear Raymonda & Jeff, I don't know where to start, but here goes. I receive my Sam's urn on Sat. & I just wanted to tell you the feeling I got when I saw it! I had tears of joy at how beautiful it was!! Your website is beautiful, but does not do justice to your expertise & the compassion you showed us. How wonderful for people like us who are in so much pain at losing our close friend, that there are people like you! When we put Sam to rest in her beautiful urn, I had her in the sunlight coming thru my bedroom window. There was little rainbows all over the walls & I knew she would love her new home. Again her I go with the water works! I referred you to a couple of my fiends, whose pets are getting old & are sick. Thank you again for the beautiful urn for my Sam, & your kind words to us. God Bless you!Sincerely, Mary & Family
---

*** Hello,
I just wanted to thank you so much for doing what you do. I just received the urn I ordered for Kali and it is gorgeous. She was with me when I opened it and likes it also. I pre ordered it because she is older and I know her time will come soon. But I wanted to let you know how thrilled I am with it. It is a beautiful piece that I will treasure forever. Once again thank you so much
Sincerely Yours,Jan
---

*** The stained glass urn I ordered from you arrived today; that is quite a relief, now everything is in place. I just had to let you know how beautiful the urn is. The photo on the website is beautiful, but it is so much more when you are looking at the real thing. Although the occasion for this purchase is a sorrowful one, I am so glad for the internet and my finding your site. You do beautiful work and there aren't words enough to complement you……….Thank you so much.
Sincerely, Sandy
---

*** Hi Jeff,
We just wanted to take a moment and thank you so much for the beautiful craftsmanship on Abby's Urn. We are so happy with it. It is truly a quality piece of art.Abby was our 16 year old miniature, red, long-haired dachshund. We have no children so she was our child. On 5-11-09 we had to say goodbye to Abby…..and it really broke our hearts….ripped them out as a matter of fact. When Abby was 10 she was diagnosed with a severe heart murmur and the medication for the heart eventually took its toll on her kidneys; combined with old age. She was very spoiled, but lived a very long & happy life.She was very special to us and it took us a while to be able to shop for an urn. We wanted something unique….and nothing but the best would do. When we found your website and saw all the pet urns they looked very nice but we were a bit apprehensive because we were unsure of the quality.Well….not only is it beautiful it is absolutely perfect. We would have paid double the price you charge. Thanks for making such a magnificent piece and allowing us to remember Abby everyday with the class she deserves.We have a new puppy now and although we are very excited about her….when people come over to see her I also make sure they see Abby's urn.Thanks again and please feel free to post as a testimonial on your websiteAndrea & RickMargate, FL
---

*** Raymonda
You made an urn for me around Christmas. I want to tell you how important you have been in my healing. Every night I come home and light our candle. It's wonderful to fell Tasha's spirit. Thank you so much for helping me keep her spirit alive. I am very grateful for you contribution to our joy, and helping me move through my grief.
Kathleen
---

*** Hi Raymonda, I just wanted to thank you so much for what you do. I just received the urn I ordered for Spunky and it is gorgeous. She was with me when I opened it and likes it also. I pre ordered it because she is older and I know her time will come soon. But I wanted to let you know how thrilled I am with it. It is a beautiful piece that I will treasure forever. Once again thank you so much. Sincerely yours, Debbie
---